Northampton GOP results for the May 17th Primary showed top vote getters Oz, Mastriano, Jones and Fitzpatrick in the major contested races. Below are some photos from election night and Click Here to see a video clip link of remarks by Vincent Deon at the results room.
Looking forward to kicking butt in November and we welcome all winners from today to get together for the common good of the Party.
Please Vote for Your Recommended Republican Candidates on
Tuesday, May 17th, 2022.
Below is the cover letter of the Bucks County Republican Committee and the Official Republican Sample Ballot for the May 17 Primary. Click on an image to see a full size version
A message from the Bucks County GOP on the importance of electing our 17 Recommended State Committee candidates.  Don't be misled or duped by the rebellious group opposing them.
We need to do the following:
Make sure we retain our Congressional seat and
Elect the best candidate to retain that seat and defeat the Democrat candidate in November.
We are not going to achieve that with Alex Entin who should have bowed out like the other two opponents did.
Read the fact sheets about Brian Fitzpatrick, stay with a winner and keep our Congressional seat in the R column. We are the only R seat in SE PA.
Information about the functions of the Board of Elections, polling places voting machines and important election dates. Also learn more about registering to vote in Bucks County.
More Important Links coming soon
Congratulations to our Elected Representatives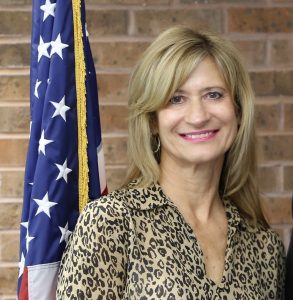 Paula Gasper is a life-long resident of Bucks County and currently lives in Richboro with her husband Bob.  She is a small business owner and entrepreneur, operating a family-owned garden center & landscape company in Richboro for over 34 years.   She has been a community volunteer for decades serving with organizations such as A Woman's Place.  Paula has the heart of a public servant, dedicating nearly 35 years to our township.
Robert Salzer is a 14-year resident of Northampton Township, now living in Ivyland with his wife and two children.  While primarily working as an attorney in Doylestown, he is also a partner of a business located in the Township.  As a former Bucks County Deputy District Attorney, he places tremendous emphasis on the safety and welfare of the community in which his children are raised.  Through management of his law firm and business, and with a legal Master's Degree in Federal Taxation from Boston University, he understands the importance of fiscally responsible leadership and long-term planning.
Vincent Deon has been a resident of Northampton Township for 29 years. He is married to his wife Grace and has a daughter in Dental School.  Vincent is a USAF veteran and a graduate of USAF Non-Commissioned Officer Academy.  He is also a graduate of St. Joseph's University with a BS Marketing Finance.  A prior small business owner and Northampton Township Supervisor, Vincent has extensive community and municipal government involvement.
In 2018 Vincent began as a Deputy in the Northampton Township Tax Office.  In 2019 he was appointed Tax Collector to fill the remainder of the prior tax collectors term due to an illness.  Vincent won election in 2019 for a two year term.
Brian Zavodnick has been a resident of Northampton Township for 12 years. Prior to that, he lived in Newtown Township, spending several years as a Deputy Constable and Township Auditor. After spending over 15 years in Emergency Services, he continued his service in law enforcement as a patrolman and corrections officer for Bucks County.  Brian enjoys living in Northampton Township and raising his family here and he is excited to be part of our township's future.
Beth Rodman is a lifetime resident of Bucks County and has lived in Northampton Township for the past 23 years.   Beth has volunteered with many church and School related activities.  These include the PTO, the Council Rock Education Foundation (CREF), teaching CCD and being part of the CCD Advisory Committee for many years.   Beth would like utilize her skills to help ensure the integrity of the Township's Financial Systems for it's residents.
Bob Hickey  is running to be your representative on the Council Rock School Board.  Bob has sent 8 children through the district for over 25 consecutive years so he knows and appreciates the value of a quality education.  Bob graduated from Temple University with a B.S. in Secondary Education and serves as a manager in the miniature electronics industry. He has also spent the past 25 years coaching a variety of youth sports and presently serve as a member of the St. Bede CYO Board.  In 2012 he co-chaired a group that successfully worked with the Superintendent and Council Rock School Board to ensure all Richboro Middle School students were no longer split from their classmates between the High Schools. In addition, he was an active member in the 2013-2014 Council Rock Planning Commission. Bob possesses a unique blend of education, management experience, hands on interaction with kids, and taxpayer concerns to make wise decisions which will continue to keep the Council Rock School District a place where people want to live, work, and send their children to school.
Michael Roosevelt was born and raised on Long Island, NY, and attended several boarding schools in New England from Middle School through High School, and graduated from Proctor Academy.  This robust educational experience provided him with the opportunity to learn in an independent, diverse environment with other children from around the United States, and the world.  After graduation, he attended Eckerd College where he majored in History with a minor in Management.  This is also where he was fortunate enough to meet his wife, Becky.  After graduation, he began a career in Human Resource Management where the ability to listen to people's concerns, form consensus, and make sound decisions was a primary job requirement.
Michael moved to Bucks County, PA in 1997 and decided to return to school to earn a degree in Architecture at Philadelphia University..  He graduated with a 5-year Architecture degree and began a new career in architecture.  Michael and his wife Becky moved to Ivyland in 2007 to be part of the highly acclaimed Council Rock School District.  They have 3 children who are all currently attending Council Rock schools.