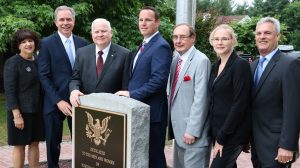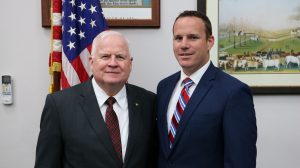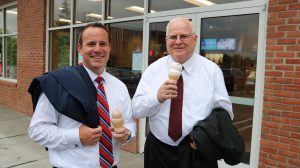 We have an amazing team of candidates running for office this November.     Support our team – Karen Jim for Auditor, Judge Bill Benz for District Judge, Frank O'Donnell & Andrew Gannon for Township Supervisors, Bob Borkowski for Tax Collector, Liz Youse for Auditor and Bob Hickey for School Director.
PLEASE VOTE FOR YOUR REPUBLICAN CANDIDATES ON TUESDAY, NOVEMBER 7, 2017.
As your neighbors and Republican Committee people, we are asking your help to maintain the quality of our Township and our School District. On Tuesday, November 7th is the General Election Day and your VOTE is important. Mark you calendar now and encourage others in your household and your neighbors to join you in supporting our outstanding slate of candidates:
FOR TOWNSHIP SUPERVISOR – VOTE FOR BOTH: Andrew Gannon and Frank O'Donnell
Andrew Gannon is a lifelong Northampton Township resident. He has worked for Canon Solutions America for the past 13 years and is currently a Sr. Business Analyst. In addition to being a volunteer coach for Council Rock United Soccer and Council Rock Basketball Association, Andrew is the treasurer for the Friends of the Churchville Nature Center and a member of the Northampton Township Planning commission. Andrew, a husband and father of two, is highly invested in Northampton Township and determined to ensure taxes remain low, roads and infrastructure continue to improve, and home owners' right's are preserved.
Frank O'Donnell is an 18-year resident of Northampton Township. Frank and Cathy have four children and ten grandchildren. Three of their adult children also live in Northampton with their families. He has a Masters Degree in Public Administration and extensive local government experience in management, administration, budgeting and capital projects. Frank is a retired army lieutenant colonel and is currently a member of the Township Board of Supervisors.
The Gannon and O'Donnell Team have the proven experience, dedication and integrity that are needed to keep Northampton Township moving forward. Andrew and Frank believe in fiscal responsibility and they will continue to improve our community by investing in infrastructure and a plan to repair and pave our roads. They support the Master Plan for the Holland commercial area as well as a Master Plan for the Richboro commercial area – former Davis Pontiac Site. They will continue to improve our recreation facilities and township parks and ensure that Northampton remains a great place to live, work and worship.
FOR TOWNSHIP TAX COLLECTOR – VOTE FOR: Bob Borkowski
Bob Borkowski has been a resident of Holland for 30 years. He is married to his wife, Pat, and has 3 grown children. Bob graduated from Temple University with a Business Administration degree. Before becoming the Northampton Township Tax Collector in 2014 Bob worked for the County of Bucks Controllers Office as a pension retirement specialist for twelve years. In the community he was also involved as assistant golf coach for Archbishop Wood High School. Bob has continually improved the operation of the tax office making it more convenient and responsive for our residents.
FOR SCHOOL BOARD DIRECTOR IN REGION 3 ·VOTE FOR: Bob Hickey
Bob Hickey – Bob Hickey has been a resident of Bucks County for the past 25 years. He and his wife Maureen are the proud parents of 8 children who have all attended Council Rock. Bob has been involved in numerous school related community groups, has coached countless youth over countless years and presently serves on St. Bede CYO Board. It is with his educational background, business experience and strong family and community ties that he looks forward to serving on the Council Rock School Board and to generating ideas to improve its responsiveness to taxpayers' concerns.
FOR SCHOOL BOARD DIRECTOR IN REGION 6 ·VOTE FOR: Mark Byelich
Mark Byelich is a Council Rock graduate and over 22 members of his family have also gone through the district. Mark has served the residents of Council Rock as a School Board Director for the past three and a half years with the fiscal responsibility and the focus on quality education that he promised. Mark successfully established better controls for budgeting and financial management. Mark successfully lobbied for increased transparency and he successfully worked to increase focus on students and academics. Mark has proven that his commitment to community, experience, and expertise are a great asset to the School Board and to the residents and taxpayers of the district. He looks forward to the opportunity to work for you for another 4 years.
FOR DISTRICT JUDGE – VOTE FOR: Judge Bill Benz
Bill Benz has been a Northampton Township resident since 1981. He has a strong understanding of the history, and character of our community. Judge Benz's dedication to community service has been recognized twice by the PA House of Representatives. He has served on the Board of Directors of the Northampton Township Miracle League and has been active with the Boys Scouts of America and the American Red Cross, just to name a few. Bill has a distinguished record of performance in his service as our Magisterial District Judge in the Richboro Court for the past 12 years.
FOR TOWNSHIP AUDITORS – VOTE FOR BOTH: Karen Jim & Liz Youse
Karen Jim has been a resident of Northampton for more than 30 years. As a professional with over 17 years of experience in the banking and financial services industry in Global Supply Chain, Karen is well versed in the challenges of the financial services field. She is well equipped to continue to serve the residents of Northampton Township with distinction.
Liz Youse has been a resident of Northampton Township for 15 years and has served diligently as Township Auditor for the past two years. As an active volunteer in the community, Liz has been involved with numerous organizations in our local schools and with the Cub Scouts. Liz's desire is to work to ensure the integrity of the Township's financial systems for its residents.
Thank you for your continued support. We look forward to seeing you on Election Day, Tuesday, November 7th.
Yours, in Moving Northampton Forward
On Behalf of the Northampton
Township Republican Committee
David R. Breidinger
Chairman